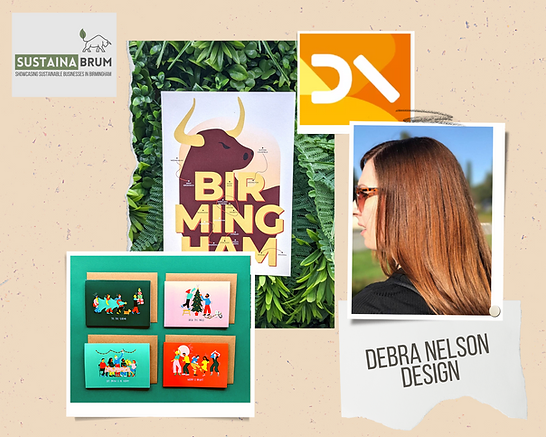 Debra runs Debra Nelson Design, designing and creating modern, colourful city prints and greetings cards. She was born in Northumberland, moved to Newcastle and Cambridge, but now lives in Birmingham. She has worked as a creative designer for over 10 years in various agencies and recently started up Debra Nelson Designs as a personal outlet, away from the corporate noise, to create colourful printed goods to bring joy into people's lives.
What sorts of things do you need to consider to ensure your business is sustainable?
"I think it's important to try to reduce your impact on the planet, starting with small changes to everyday purchases and being conscious about where things come from and what they are made of. For me it's not only important to take care of the planet but also to take care of yourself and to listen to how you are feeling – it's so easy to be overwhelmed in this world of constant noise.
At the moment all my projects are print based so it's a no brainer to implement sustainable practices.
All the paper I print on is either part or 100% recycled and FSC certified
The ink used is made from organic biomass so that they can be recycled at any plant
My prints are packaged with a 100% post-consumer waste greyboard and sealed in clear compostable wallets made from vegetable starch
All my cards come with a 100% recycled Kraft envelope and are packaged plastic free with a recyclable card catch sticker
Everything is ordered in bulk to try to reduce fuel costs as much as possible"
What do you love about running your business? "Spending my days being creative and being my own boss. I love talking to other small businesses and creatives and really appreciate the support they offer." What do you love about Birmingham? "The diversity, the food, the independent businesses, the green spaces, the community vibes, there's so much going on all the time and always something new to explore. There's not much that I don't love about Birmingham and I'm proud to call it my adoptive home." Find Debra Nelson Design on Instagram (@debranelson_designs) or on etsy: http://debranelsondesign.etsy.com/