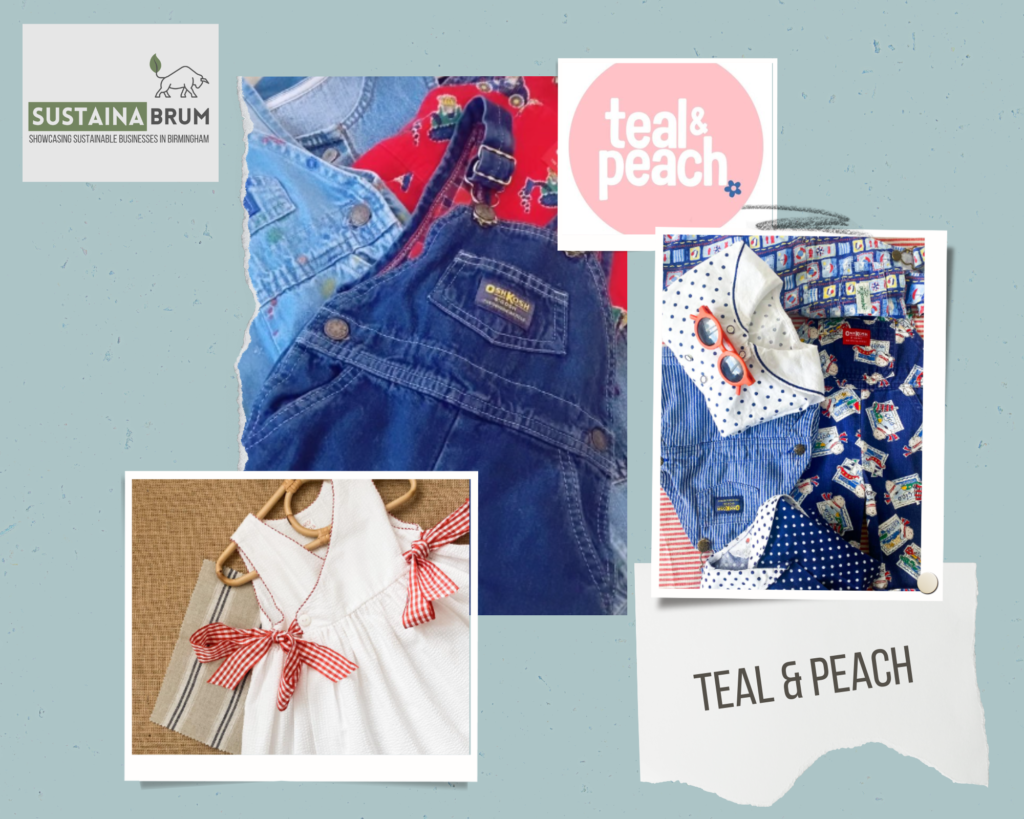 Teal & Peach is a children's vintage, lifestyle & gift shop that is all about nostalgia and cute pieces to make you smile! Owner, Gemma, curates collections from small, indie brands and makers, many of which are women-owned businesses, and sources vintage pieces mostly from the UK and America.
"Sustainability is important to me, as I want my children to grow up in a world where they can thrive and a world where people and the environment are cared for. It's not about being perfect, but small steps to work towards leaving things better than we found them."
What sorts of things do they consider to ensure their business is sustainable?
Gemma reviews and evaluates what she does constantly, helping her to remember that sustainability is an ongoing journey.
The vintage collections help to encourage a second-hand thinking, as well as showing how we can repair and re-love clothing that isn't new. There is so much fashion waste and it is so important to look to what is already out there.
The new collections are bought in very, very small quantities from small, independent brands who care about people and the planet, have transparency in their supply chain and make continuous efforts to reduce waste.
She also considers sustainability when purchasing packaging supplies (stickers, stamping ink etc.) to ensure she is using as many low waste and recyclable products as possible.
What do you love about running your business?
"It is hard to choose a favourite thing about running the business! I love talking to customers at our fab local markets, connecting with other small businesses and customers online, finding amazing vintage pieces and small indie labels… I used to work in Visual Merchandising, so moving around and adding new pieces to my Red Brick Market stall is always fun too!"
What do you love about Birmingham?
"Birmingham has such a great sense of community. I moved back here after 10 years away in 2019 and have met so many great people in the local area. There's always a fun market or event going on, a new foodie place to visit and amazing parks and green spaces to walk or take the kids. I love to dance and go to classes in the city centre, which is super easily accessible – no time to get bored here!"
You can find Teal and Peach on instagram (@teal_and_peach) or contact Gemma via email (info@tealandpeach.co.uk), or visit her stores in Red Brick Market Birmingham or Caneat in Stirchley.