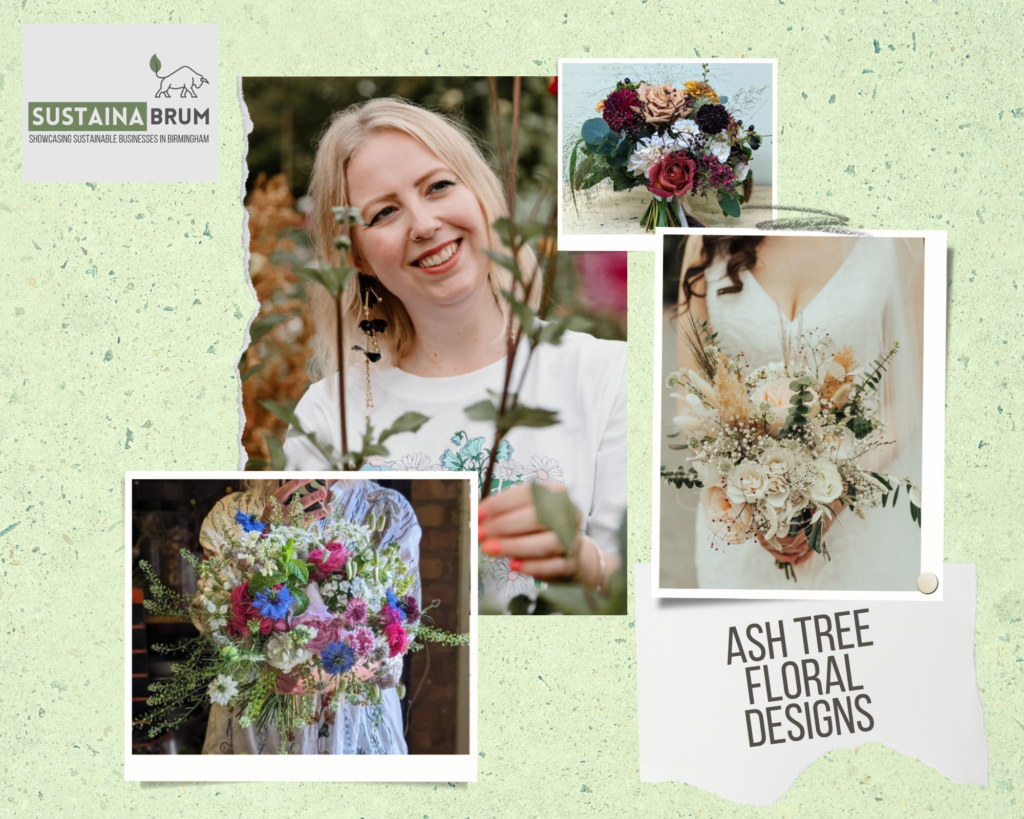 Ash Tree Floral Designs is a quirky and creative wedding and events business based in Birmingham, specialising in floral filled weddings and fun and relaxed flower arranging workshops!
Even though flowers come from nature the floral industry has a pretty big impact on the environment from import airmiles, pesticides and plastic waste! The industry on the whole is making lots of positive changes but progress is slow in places.
"I am passionate about making choices that work for my business and are kinder to the planet. Don't get me wrong I'm no green angel but I've found that small changes can make a big difference."
What sorts of things do you consider to ensure your business is sustainable?
For me my biggest focusses for sustainability are my suppliers, packaging/ mechanics and waste. I prioritise British grown flowers in my designs because I love the way they look and I like feeling connected to the seasons. Buying seasonal, British grown flowers is better for the environment because they have a lower carbon footprint in comparison to some imported blooms. When I can't source flowers locally I always use reputable suppliers who have robust sustainability policies in place and I always buy only what I need to avoid necessary waste.
I hate excess packaging and prefer to present my flowers in recyclable glass jam jars and cardboard boxes. I also avoid using plastic and chemical filled floral foam in my wedding designs instead opting for reusable chicken wire, moss and Agra wool wherever possible. I am lucky that The Old Print Works where I am based is very sustainability focussed and they have facilities for me to easily recycle carboard and compost my green waste too!
What do you love about running your business?
"Freedom to go after what I am passionate about!"
What do you love about Birmingham?
"Birmingham is a vibrant and diverse city. It is a friendly and down to earth place with a strong sense of community. I love how entrepreneurial and creative our city is and how we go out of our way to support independent businesses."
You can find Ash Tree Floral Designs on Instagram and Facebook (@ashtreefloraldesigns) or via her website (ashtreefloraldesigns.co.uk) or email (contact@ashtreefloraldesigns.co.uk).