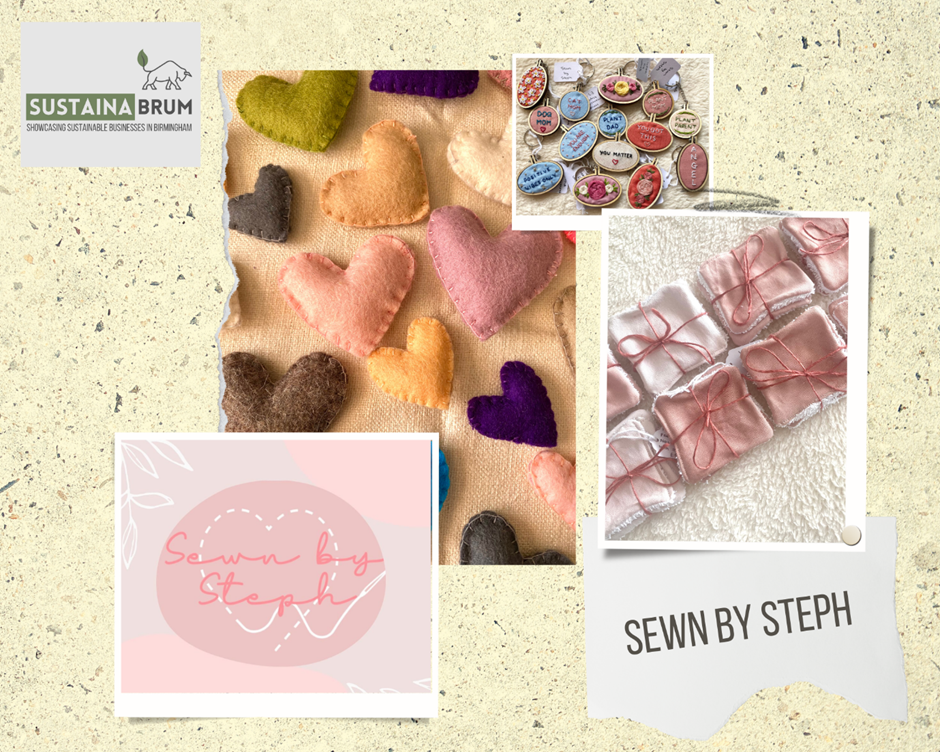 Meet Steph, the creator of "Sewn by Steph": a planet friendly textile gift and accessories shop. Steph, a qualified textile designer, set up Sewn by Steph as a business back in 2021 to bring consumers naturally dyed and upcycled material offcut designs. Her beautiful designs present how fashion accessories can be stylish and fashionable with an ethical source.
Steph has since grown and developed her business throughout the years to bring consumers more personalised products to thrill friends and family with. We were excited to ask her some questions on her business!
Which ways do you take sustainability into consideration when running your business?


I try to run Sewn by Steph as sustainably as possible, primarily by using up-cycled materials. All of the fabrics, threads, and embellishments that I use are either leftover from various university projects or sourced from second hand shops. Any scraps that I generate myself, I store and eventually use to create new products. I also hand dye a lot of my fabric using natural resources, as the use of natural dye rather than synthetics is much better for the environment. My products are also designed to be re-used over and over to reduce waste, and many (such as our cards) are perfect for sentimental gifting, where the recipient will want to treasure their unique gift forever, rather than throwing it away.
What do you love about running your business?


I actually started my business after finishing my degree and moving home because I missed being creative. As soon as I started creating again, I found that this had such a positive effect on my mental health! I love running my business now because I enjoy the freedom of being able to experiment and create any ideas that I come up with. I am currently just creating things that I love and finding out which of my creations that other people love too! Having my stall in RedBrick market Birmingham has really helped me to get more of an idea of this.
And finally, what do you love about Birmingham?
I have always loved Birmingham because I have fond memories of attending events and activities in the city as a child. I always remember thinking that it was such an exciting city that was always full of life, and I still love travelling to Birmingham for that reason now. There is so much to explore in the city, and also such an amazing creative community.
You can find Sewn by Steph products at the Red Brick Market in Digbeth, and she is in the process of creating her own website shop! Meanwhile, keep an eye on her Etsy shop (https://www.etsy.com/uk/shop/SewnByStephStore) and you can keep up-to-date with her new styles and events via her Instagram (@sewn_by_steph).