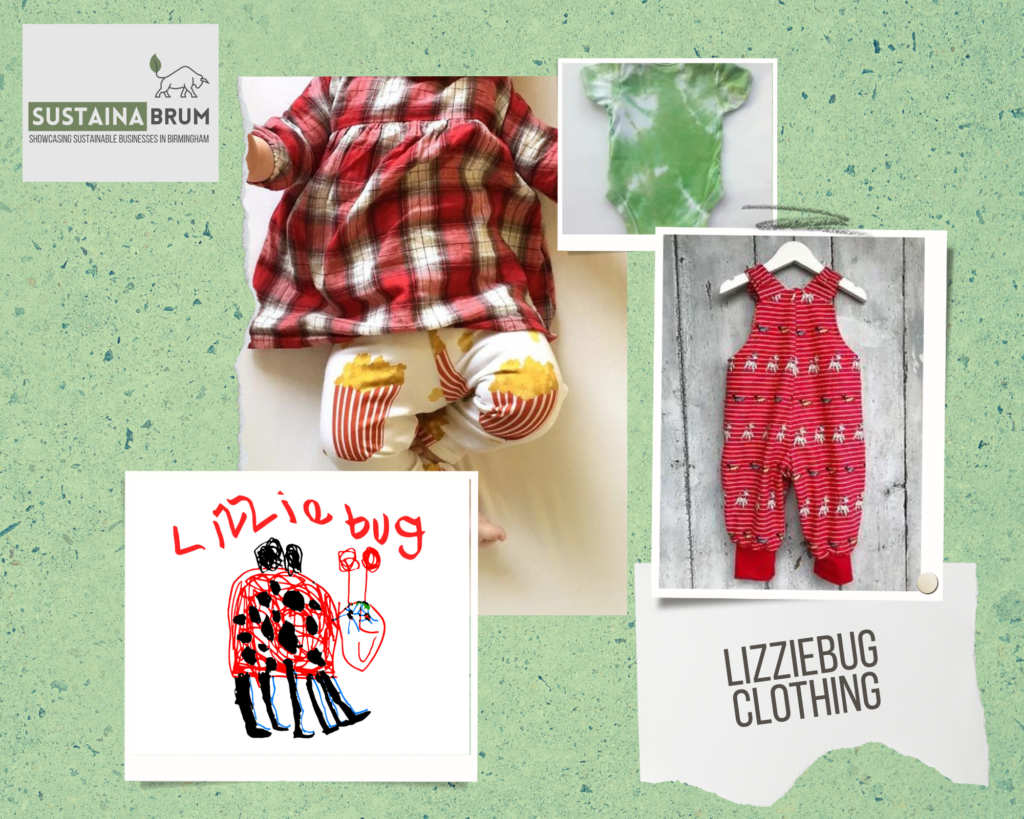 Introducing Lizziebug, who sell sustainable, handmade, gender-free children's clothes, for children aged 0-6 years old. Everything is handmade by Lizzie, in her home studio. 
Lizzie makes new items using her own fabric prints, but also has a second-hand scheme, and has created two Lizziebug Recycled collections (with another one coming soon)! She also has a reusables range (wipes and breast pads) and a couple of homeware products too. Lizzie makes clothes to last and focuses on being circular and zero-waste – she encourages customers to send clothes back, which will be refreshed and resold, or if they are not suitable for resale then they're cut up into fabric scrap for reusables or stuffing.
What sorts of things do they consider to ensure their business is sustainable?

The fashion industry is the second most polluting, after oil, and the amount of textile waste that is produced is shocking. Lizzie makes sure that nothing is wasted – even thread scraps are saved. Any scraps that can't be used for her reusables range get sent to another small business as zero waste cushion stuffing. As Lizziebug is sold online, she also makes sure that all of her packaging is recyclable / reusable.

For her recycled collections she uses existing adult garments, that are no longer wearable as is, and uses the fabric to make kid's clothes. In the future she is also looking to use deadstock (leftover fabric that can't be used for its original purpose) or vintage fabrics. She also doesn't buy polyester fabrics (apart from where absolutely necessary e.g. swimwear) and buy organic cotton as much as possible.
What do you love about running your business?

"Sewing is my happy place (although, maybe not when I need to unpick something!) and I love how creative I get to be! Thinking of new pattern designs, designing new products and then seeing it all come to life, is the best. Running a business by yourself can be really challenging at times, but I love that I have the freedom to make what I want, and to not be forced into trends. I also love the online community I have, and being able to talk to customers – I love it when I get messages from customers about how they're still loving their pieces years later – having handed it down through siblings / friends!"

What do you love about Birmingham?


"I love all the fab small independent businesses that Birmingham has to offer!"


Find Lizziebug on Instagram (@lizziebugclothing) or drop Lizzie an email (info@lizziebugclothing.com).